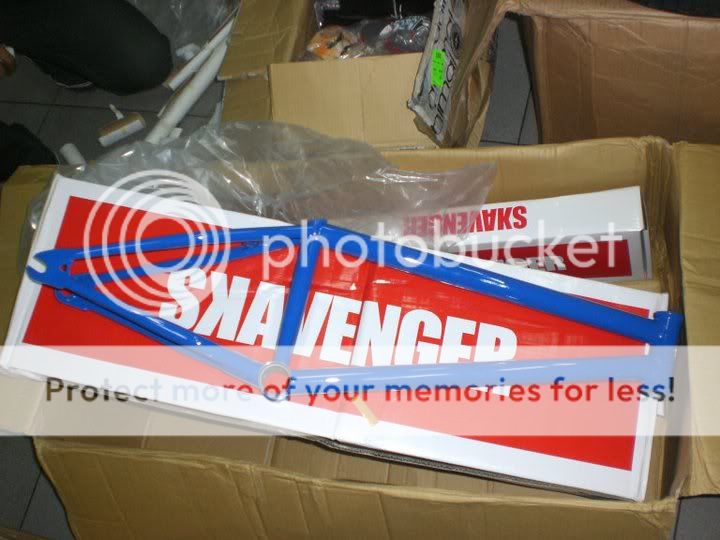 Details and Specs for Skavenger Tunnel Frame :
Skavenger's Tunnel frame is Vinnie Sammon's signature frame featuring a toptube and downtube made from double-butted heat-treated Mugen tubing that is 20% stronger than 4130 chromoly. The toptube has an internal gusset and the downtube has an internal and external gusset for added strength. The rest of the frame is made from heat-treated 4130 chromoly and features an integrated headtube with Pigeon headtube badge, externally machined Mid BB shell, externally butted and ovalized clampless seat tube, wishbone style chainstays that are ovalized near the BB shell and transition to a tapered round near the dropout, tapered seatstays with removable U brake mounts, widened rear end for fatter tires, Tunnel seatstay brace and 5mm thick dropouts. Includes Animal Pivotal Wedge post.
Headset Type: Integrated (Campy Spec)
Gyro Tabs: N/A
Brake Mounts: Removable (Included)
BB Type: Mid
BB Height: 11.75"
Chainstay: 13.5" - 14"
Headtube Angle: 74.5°
Seattube Angle: 71°
Seattube Height: 8.875" (225mm)
Seatpost Size: 25.4mm (Animal Wedge Post Included)
Seat Clamp: N/A - must use and internal clamping seat post
Dropout Size: 14mm
Weight: 4 lbs 8 oz
SKAVENGER Tunnel Frame (Vinnie Sammon sign.) blue, 20.5
IDR 3.700.000 (belum termasuk ongkos kirim)
untuk pemesanan atau sekedar tanya-tanya silakan tinggalkan pesan di wall atau message. Untuk mendapatkan balasan secepatnya silahkan telpon ke nomor berikut
Sarkum: 085697885511
Mechsa: 0818984541